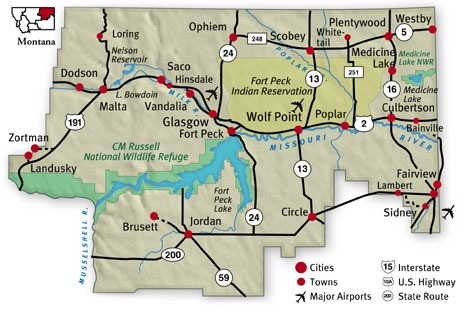 North-Central Montana is characterized by gently rolling grass prairies adjoining the rough, broken landscape near the Missouri and Milk Rivers flowing west to east.  Malta is the center of this agriculture community and denotes the heart of Dinosaur Country in Montana. Some of the worlds most significant dinosaurs ever discovered are unearthed in the Judith River Rock Formation in the northern portion of our region.
Phillips County includes approximately 1.6 million acres of public lands intermingled with 1.7 million acres of private and state lands. Land use is principally farming and ranching with mineral activity (natural gas) near Saco and Whitewater. Population for the county is approximately 5,100 – less than 1 person per square mile.
Malta, the county seat, is at the crossroads of US Highway 2 and 191, providing direct highway access to two national parks (Yellowstone and Glacier) and the U.S./Canadian border at the Port of Morgan. Amtrak provides daily rail passenger service to Malta.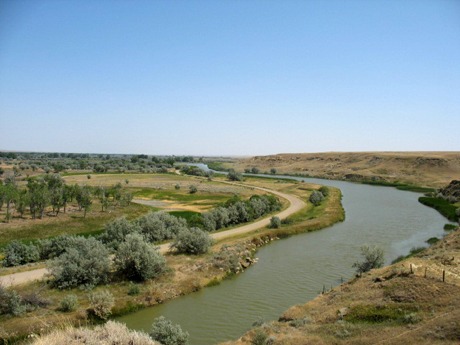 Famous for our wide-open spaces and diversity in landscape, we offer a variety of wildlife and cultural history.
We are host to the Charles M. Russell National Wildlife Refuge (40 miles south on US 191) and the Bowdoin National Wildlife Refuge (7 miles east of Malta, just off US 2). Both refuges offer self-guided auto tours and opportunities to view abundant wildlife in their natural setting.
The Little Rocky Mountains, 40 miles south of Malta, are rich in mining and outlaw history. Nestled in these "island mountains" you will find the communities of Zortman and Landusky. Both have exceptional campsites managed by the Bureau of Land Management. Activities in the Little Rocky Mountains include hiking, horseback riding on the many trails, gold panning, and presentations at the Lewis and Clark Amphitheater in Zortman.
Fisherman find Nelson Reservoir (17 miles east of Malta), the two rivers, and local ponds a haven for walleye, northern pike, historic paddlefish, trout, and many more varieties.
Marian Hills Golf Course is a challenging 9-hole public course located on the south edge of town. Destination attractions in Malta include the Phillips County Museum and historic H.G.
Robinson House & Gardens and the Great Plains Dinosaur Museum & Field Station. Both are located on US 2 within city limits.
Activities and/or guided services for this area include ranch vacations and activities, hiking and riding on natural trails, boating, hunting, fishing, wildlife viewing, photography, golf, natural hot springs, dinosaur digs, and paleo-education programs.
The City of Malta offers all amenities for travelers and visitors. For additional information on either museum, lodging, dining, or recreational opportunities in the area, contact the Malta Chamber of Commerce at (406) 654-1776 or email at [email protected]