American Prairie Reserve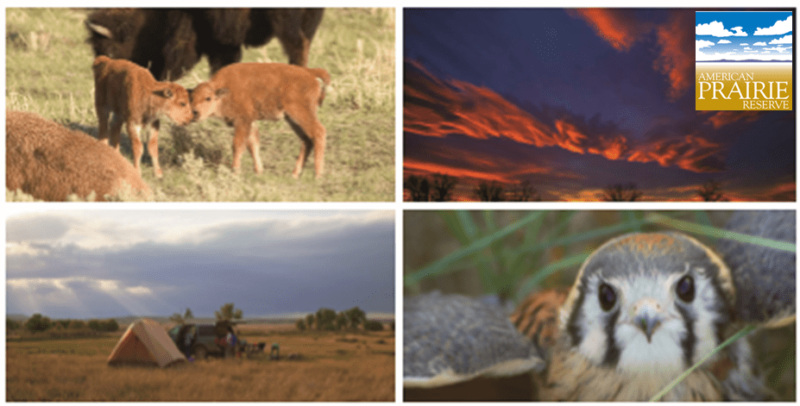 Established in 2004, the Reserve provides outstanding scenery and a sense of the wide open. Herds of elk, deer, pronghorn, and bison once roamed these grasslands in great numbers. Now the Reserve is restoring wildlife across its lands to create a functioning ecosystem and for public enjoyment. Resident and migrating birds fill the sky. Native American and homestead-era historical sites are preserved for the future. With an estimated two-thirds of the nation's mixed- and short-grass prairies already lost to development, surviving grasslands have the potential for incredible biodiversity and discovery.
Stunning vistas and unique topography provide an impressive backdrop for recreation. Unlike developed national parks, the privately created American Prairie Reserve has a truly rugged quality and a sense of uninterrupted nature. Discover the power of dark skies, quiet trails, and remote, unbroken land. Imagine the world through the eyes of early humans, Native Americans, and explorers. The Reserve is more than just a destination; it's a growing conservation legacy. Each visit offers something new whether you're on foot, wheels, or horseback.
Hitting the trail Explore the vastness of the landscape, smell the sage, and listen to birds call. Enjoy hiking, biking, and horseback riding on two-track roads, new trails, or cross-country.
Ken Burns American Heritage Prize 
Named in honor of America's most revered visual historian and documentary filmmaker, the Ken Burns American Heritage Prize will recognize distinguished and visionary artists, authors, conservationists, educators, filmmakers, historians and scientists whose body of work has advanced our collective understanding of the indomitable American spirit.
Driving Tours
In addition to the county roads and two-tracks that cross American Prairie Reserve lands, roads 201, 321, and 844 in the Charles M. Russell National Wildlife Refuge (CMR) offer exciting tours. For more information on the CMR, visit their Official Website.
Wildlife viewing
Rich wildlife-viewing opportunities abound. Observe fascinating prairie dog behavior on their towns or the annual arrival of migrating birds. Keep an eye out for elk, bison, and pronghorn across the land and hawks and eagles overhead.
Photography
From spectacular sunsets to unique wildlife behavior, the prairie offers vast opportunities for amateur or professional photographers. You may stumble across a herd of elk, snap a picture of a burrowing owl, or capture a bellowing bison.
Hunting
Tens of thousands of acres owned by American Prairie Reserve are enrolled in the MT Block Management program. Please contact the Region 6 field office at 406.228.3700 for maps and more details.
American Prairie Reserve
Phone: (406) 585-4600
Email: [email protected]
Official Website